The Z-LASIK Femtosecond Laser Utilizedby Dr. Behler Serves Clearwater, Tampa, St. Petersburg, New Port Richey, Tarpon Springs and Surrounding Areas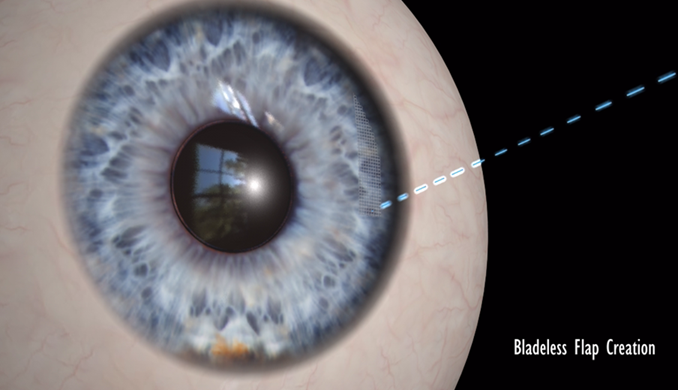 The femtosecond laser paired with the excimer laser is one of the latest improvements to the LASIK eye surgery procedure. It uses extremely fast pulses of laser energy to create the required flap in your cornea. How fast is fast? A femtosecond is one millionth of one billionth of a single second. Needless to say, this type of laser uses countless numbers of these tiny pulses to create the flap in the blade-free, all laser, Lasik practice.
Before a laser was used for LASIK, making the corneal flap required using a mechanical microkeratome – basically a motorized blade. Patients were unsettled about the idea of a scalpel or other blade touching their eyes. For these reasons, researchers looked for a way to make the entire LASIK procedure blade-free.
The Benefits of the Femtosecond Laser
The new ZLASIK femtosecond laser used at Behler Eye and Laser Center is 100 times less powerful than the first generation of these lasers. This is a good thing – it allows for unmatched accuracy and patient comfort. It also gives the instrument an excellent safety profile.
Thanks to this increased accuracy and safety, patients have great results from the bladeless LASIK surgery. The custom flaps created allow for precision repair of vision problems and fast recovery times. Despite the precision, the femto lasik procedure is relatively fast – it takes only about an hour from start to finish, and merely seconds under the laser.
If you are in the Tampa area – including St. Petersburg, Clearwater, Tarpon Springs, New Port Richey and surrounding areas – and would like to find out if the new blade-free, all laser, femtosecond laser eye surgery is right for you, schedule a consultation or contact us at Behler Eye and Laser Center. There, Dr. Behler himself will examine you to see if you are a good candidate for Z-LASIK vision correction or another procedure. Soon, you'll be on your way to great vision!